Personal congratulation of Santa Claus 2 "Enchanted cit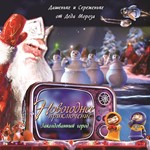 Description
Girls and boys from 3 to 7 years old will be interested in this cartoon. Your kid with two funny squirrels goes to solve the mystery of the magic town and sing a song with the Snow Maiden.

- For children from 3 to 7 years
- Duration: 11 minutes.
- Appeal by name 3 times.

As already wound up in our fairy tale, the New Year´s adventure begins in the hut of Santa Claus with a good personal greeting and meeting new assistants. This time, the kind wizard prepared a surprise for his guests - a musical greeting from his granddaughter Snegurochka. But it turns out that an evil blizzard intervened in the New Year´s plans, which threatens to disrupt the holiday!

With the help of a magic book and a fairy-tale spell, your child will help Santa Claus to spell the frozen city and save the Snow Maiden. For this, Santa Claus will thank the viewer by name and send him to the festive New Year´s town!

You are waiting for songs and dances, riddles and congratulations, magic and adventure. In a word - a real TALE!
Feedbacks of podarokvnutri
(0)