RuneScape Currency Pack +400 RuneCoins +20 Treasure Key
illuminatus
information about the seller and his items
Share a link to this page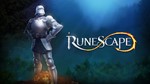 Description RuneScape Currency Pack +400 RuneCoins +20 Treasure Key
Uploaded: 18.02.2022 02:28:24
Content: text 24 bytes
After paying for the goods, you will INSTANTLY receive an In-Game Key to activate the Currency Pack in the game RuneScape. The key has no regional restrictions and can be activated anywhere in the world. 1 code for 1 account!

After activating the key, you will receive:
- 400 RuneCoins
- 20 Treasure Hunter keys

Package not available to Ironman mode account.
Additional information
To activate, you will need to authorize your RuneScape account and activate the code using this link - https://secure.runescape.com/m=billing_core/voucherform.ws
Feedbacks of illuminatus
(0)