Stickers May 9 layout ready to print
Share a link to this page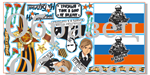 Description Stickers May 9 layout ready to print
Uploaded: 14.03.2016 17:36:48
Content: text 53 bytes
Many are engaged in a seasonal business for the sale of stickers on cars to 9 May, exhaust 2-3 weeks can be quite significant from 50-100 TR or more, depending on the volume, since not all are capable to create a layout or spend a fair amount of time many have to go to the office where designers make layouts for quite an impressive pay anything at all to buy ready-made stickers in bulk for resale in another region (the capital) and significantly lowering their income on each sticker. I suggest you print-ready vector layouts to outline the contours of curly vinyl cutting (that label has been shaped rather than square) Goods: Buy print and sell, any printing can print on a selfglue + plotter cutting you will produce finished labels for your business a few days for only 500-1000 p / sq m (depending on the region) that is 3-4 times cheaper than ordering in bulk for resale, for the layout chosen the most frequent and convenient format meter width at half a meter (print twice obtain the meter on meter so convenient printers), all three of these included the layout of the original ~ 30 (range in these layouts) labels, more than 70% -color!
Additional information
I am not responsible for incorrect color reproduction on your computer or computer printing, all the files stored in Corele x4, and placed in the archives, so do not bear any responsibility for any of your actions or the actions of third parties, prohibited resale or free distribution of the layout on the Internet.
Feedbacks of Klimucar
(0)